BEPS and Transfer Pricing Training Seminar for Central American countries and the Dominican Republic was successfully concluded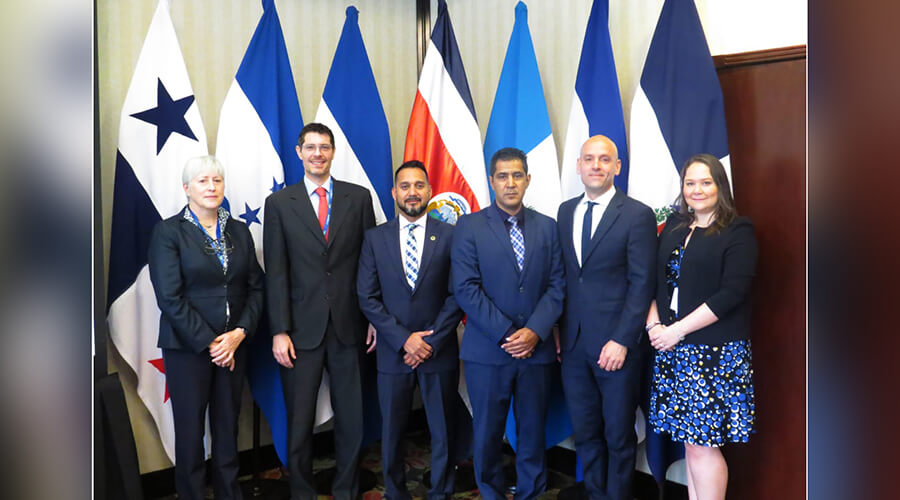 From left to right: Ms. Dorothea Beerling de Henestrosa, Director of German cooperation in El Salvador (GIZ); Mr. Isaac Gonzalo Arias Esteban, CIAT´s International Cooperation and Taxation Director; Mr. Martín Osvaldo Portillo, Executive Secretary of the COSEFIN; Mr.  Nogui R. Acosta Jaén, Deputy Minister of Revenue of the Ministry of Finance of Costa Rica; Mr. Diego Gonzalez- Bendiksen de Zaldivar, Tax Advisor of the Center for Tax Policy and administration of the OECD and Ms. Ana Rodríguez-Calderón, Analyst of the Center for Tax Policy and administration of the OECD.
A seminar whose main themes were the struggle against base erosion and profit shifting and, in particular the control of abusive transfer pricing manipulation was held in San Jose, Costa Rica on May 14-16, 2019, within the framework of the cooperation actions carried out by the CIAT Executive Secretariat, together with OECD, German Cooperation-GIZ, GOPA, COSEFIN and SICA and with the support of the Ministry of Finance of Costa Rica.
Present in this event were representatives from the ministries of finance, tax administrations and courts of Costa Rica, Honduras, Nicaragua, Guatemala, El Salvador, Panama and Dominican Republic.
The discussions dealt with the actions of the BEPS Action Plan, with a view to disseminating their objectives and scope, as well as considering the challenges they represent for those countries that have not implemented them or which are in the process of their effective implementation. Likewise, practical transfer pricing exercises were carried out, whereby the participants were able to put into practice the knowledge acquired in this activity. In addition, the delegation of representatives from various Unilever areas provided detailed information on the main characteristics of the massive consumption goods sector, as well as allowed for discussing aspects of special interest to the participants.
The CIAT Executive Secretariat hereby expresses its appreciation to all those who contributed to this fruitful activity.
4,958 total views, 1 views today