Tax Commissioner of Bermuda and current member of CIAT Executive Council, Mr. Michael Crichlow, has passed away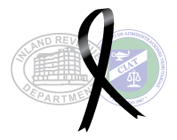 We regret to inform of the sad demise of Mr. Michael Crichlow, last Sunday, October 24.  He was Tax Commissioner of Bermuda and member of the 2010-2011 CIAT Executive Council.
Following his graduation from Concordia University in Montreal with a Bachelor's degree in Commerce and a major in Accountancy, Mr. Crichlow held several positions in private business as well as in the Sales and Excise Division of the Revenue Canada Agency.  In 2008 he was appointed Tax Commissioner and during his time in office, he actively participated in the many changes that occurred in the Tax Administration.
Once again, the tax  community is in mourning.  We hereby extend our sincere sympathy to the authorities and officials of the Office of the Tax Commissioner of the Government of Bermuda, and to Mr. Crichlow's distinguished family.