Officials and cooperation experts meeting to discuss Central American Public Finances
Officials from Finance Ministries and Tax Administrations, tax policy experts and representatives of the diplomatic corps in the region met on November 5 and 6, 2012, in the city of Antigua, Guatemala, to discuss tax challenges and best practices in public spending, transparency, revenue collection, and internal mobilization of tax resources in Central America. This activity was carried out as part of the seminar "Public Finance in Central America: Present Situation and Perspectives", organized by the Public Finance Ministry of Guatemala, the Inter-American Center of Tax Administrations (CIAT), the International Tax Compact (ITC), the Economic Commission for Latin America and the Caribbean (ECLAC) and the Central American Institute for Fiscal Studies (ICEFI).
The seminar brought together 60 participants from Costa Rica, El Salvador, Guatemala, Honduras, Nicaragua, Panama and the Dominican Republic, as well as officials of international organizations such as the World Bank, the International Monetary Fund and several non-governmental and business organizations working on issues related to public finances.
While Central America has improved its fiscal and social indicators in recent years, major challenges still remain in the social field and in strengthening anti-cyclical policies. In spite of recent improvements in income distribution, the region remains the most unequal in the world.
In this context, the discussion addressed key issues on fiscal policy in Central America, such as the expansion of fiscal space, public debt sustainability, structural fiscal balance, the challenges of carrying out political and tax administration reforms along with discussions on how to contribute to the quality and transparency of public expenditures.
The seminar highlighted the progresses of tax reforms in the region and concluded that it is essential to prioritize social expenditure and strengthen tax administrations. It was stressed that, on a regional level, further strengthening of regional integration and economic policies is a priority to contribute to the common good.
In addition to external problems, it was stated that Central American societies must overcome several challenges at national level, such as generating fiscal space through reforms aimed at sustainable growth with equity, strengthening the political commitment of authorities to fight corruption, promoting budget transparency and improving the quality of public expenditure.
In this regard, participants emphasized the importance of international cooperation, exchange of knowledge and information as well as greater coordination between all parties involved, including the private sector and the civil society.
To support this work, the International Tax Compact reiterated its commitment to cooperate with CIAT, ECLAC and the countries of the region. The next regional exchange will take place on November 22 and 23 in Montevideo, organized by these three organizations, the General Tax Directorate of Uruguay and the Center for Fiscal Studies.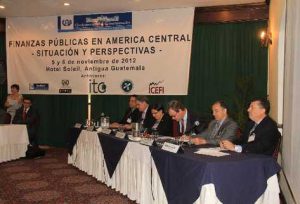 From left to right: Ricardo Barrientos, ICEFI, Juan Alberto Fuentes, ECLAC, Maria Castro, Deputy Finance Minister of Guatemala, Thomas Schaefer, German Ambassador, Hans Wollny, Ministry of Development, Germany, and Francisco J. Beiner, CIAT.
380 total views, 1 views today