CIAT accompanied the progress of Latin American countries in the framework of the Declaration of Punta del Este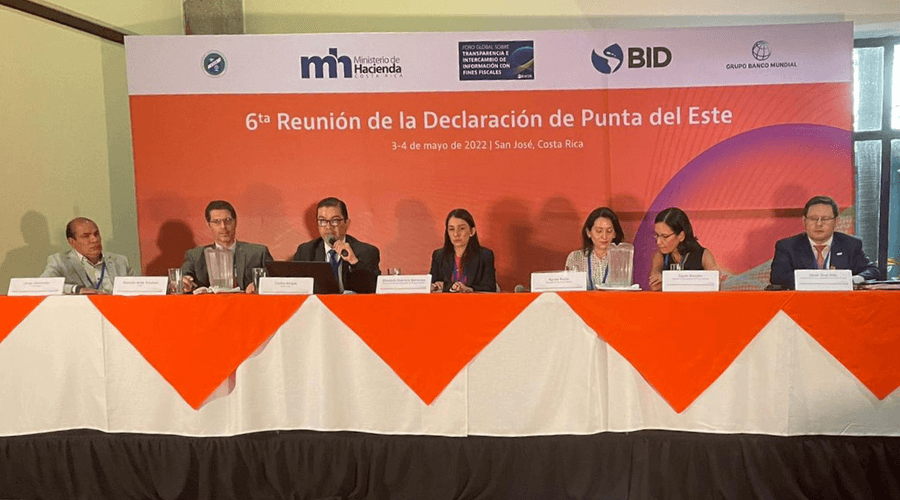 On May 3 and 4, 2022, the 6th Meeting of the Punta del Este Declaration was held under the auspices of the Ministry of Finance of Costa Rica and the OECD, whose main objective is to maximize the effective use of information exchanged under international standards of tax transparency to address tax evasion, corruption and other financial crimes.
During the meeting, the Punta del Este Declaration Progress Report was presented, whose data is very encouraging with respect to the progress made by the countries of the region and gives us ideas on areas where international cooperation is key.
Likewise, in this same line, experiences of tax administrations and lessons learned were presented, with the aim of reflecting on how to address the challenges involved in issues such as the broad use of information obtained for tax purposes, the creation of effective frameworks to make available and access information from final beneficiaries, the use of financial information obtained automatically (CRS), among other issues.
The CIAT Executive Secretariat and its missions of the State Agency of Tax Administration of Spain and the Guardia di Finanza of Italy have expressed their intention to continue to strongly support the recommendations of the Global Forum on Transparency and Exchange of Information and, in particular, the commitments made by the Latin American countries that signed the Punta del Este Declaration.
We highlight the leadership of the OECD in promoting this initiative and the support provided by the IDB and the World Bank, together with CIAT.
We congratulate the Ministry of Finance of Costa Rica for its management while chairing this Declaration, together with the Undersecretariat of State for Taxation of Paraguay during its vice-chairmanship and the efforts of all those who have worked in the organization of this event so that the 6th Meeting of the Punta del Este Declaration has been a success.
119 total views, 1 views today