Visit of the Executive Secretary to the IRS of the United States and international organizations in Washington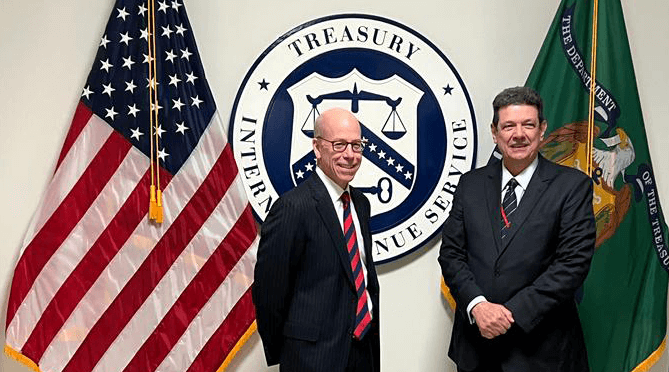 On January 12, the Executive Secretariat visited the Acting Commissioner of the Internal Revenue Service of the United States of America, Douglas O'Donnell, in Washington, who was accompanied at the working meetings by colleagues Holly Paz, Deputy Commissioner of Large Business and International Division; and Sandra Frost, Executive Assistant of Large Business and International Division.
The Secretariat commented both institutional matters and the main activities being carried out by CIAT in the areas of international cooperation, products development and computer applications, studies and publications.
On behalf of the CIAT Executive Secretariat participated in this mission: the Executive Secretary, Márcio F. Verdi; the Director of Technical Assistance and ITC, Raúl Zambrano; the Director of Cooperation and International Taxation, Gonzalo Arias; and the Head of the Italian Permanent Mission before CIAT, L.Col.  Gabriel Gargano, from the Finance Guard.
Likewise, working meetings were held at the International Monetary Fund, with Andrea Lemgruber, Head of the Division of Development of Resources and Information of the FAD; and at the Inter-American Development Bank, with Emilio Pineda, Director of the Fiscal Affairs Division.