The Executive Secretariat participates in the CREDAF General Assembly
The CIAT Executive Secretariat participated in the technical sessions at the CREDAF General Assembly held in Brazzaville, Congo, from May 27 to 30, in response to the special invitation from the CREDAF General Secretary Mr. Gilles Berteau, to present the conclusions of the CIAT General Assembly on International Taxation, held in Buenos Aires in April 2013.
The heads of tax administrations from the 28 CREDAF member countries participated in this important event. This organization includes the Francophone countries from Europe, Africa, America and the Caribbean. Tax specialists from international and regional organizations such as UNDP, IMF, OECD, IBFD, ADETEF, ATAF and CIAT also participated.
Francisco J. Beiner, CIAT Director of Institutional Management and Operations, represented the CIAT Executive Secretariat.
See: CIAT presentation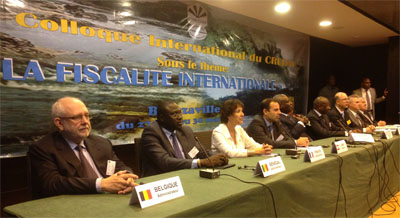 Photo: Main table of the CREDAF General Assembly, held in Brazzaville, Congo, from May 27 to 30, 2013