Marisol Andrade Hernández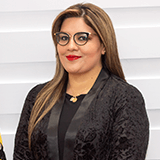 Marisol Andrade Hernández
Economist Marisol Andrade Hernandez, deeply proud of her roots, was born in Riobamba, is married and is the mother of Juan Diego, her greatest blessing.
During her student career, she obtained several awards for her outstanding academic performance. She holds a diploma in Taxation from the Universidad Técnica Particular de Loja and an MBA from the International University of la Rioja in Spain.
Her professional career in the Internal Revenue Service of Ecuador began in 2005, in the Department of Planning and Management Control of the Regional Center II based in her native Riobamba. In 2007 she was appointed Director of the Regional until 2014 and from this year until 2018 she was Provincial Director of Chimborazo. On May 23, 2018, due to her impeccable work trajectory, she was appointed as General Director of the Internal Revenue Service, becoming the third woman to assume these functions. In May 2021, she was ratified in the position by the current President of Ecuador.
Aware of the strengths and opportunities of the Institution she has served for many years, she has based her management on facilitating citizen assistance and strengthening control processes to combat fraud and tax evasion. Likewise, she has promoted important actions to strengthen tax transparency and to make the Ecuadorian Tax Administration an international reference among the administrations of the region.
During her tenure as Director General of the SRI, she represented Ecuador as a member of the  Executive Council of CIAT, an international organization that provides specialized technical assistance for updating and modernizing the tax administrations.
After 19 years as a career official of the Internal Revenue Service (IRS) and four years as Director General, she formalized her resignation expressing her gratitude to the President of Ecuador for having allowed her to continue serving the country during her first year in office.
After completing this cycle at the head of the Tax Administration, in which the highest standards of efficiency, quality and service were implemented and in which Ecuador was able to join outstandingly all the tax transparency mechanisms, benefits to which Ecuador has access due to its adherence to multilateral and bilateral agreements, she has resumed the most important roles in her life: that of daughter, wife and mother. In addition, in order to recover time with her family, she is currently dedicated to teaching and free practice professional activities related to the field of economics and taxation.
Latests Posts