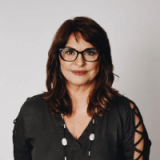 Has over 25-year experience as Management and Human Resources consultant; in the development, management and implementation of HR Restructuring projects and programs, Management by Competencies, Assessment/Evaluation and Coaching, Performance Management and Leadership Development.
Provides consultancy services in large, medium and small public and private enterprises.
Has a Bachelor's Degree in Business Administration.
Personal & Professional Coach certified by the Brazilian Coaching Association.
Developed the Management by Competencies discipline for the EAD postgraduate course of ULBRA / RS.
Is certified for applying the MBTI and DISC Profile tools.
Works as associate consultant in some consultancies, in particular, CIAT (Inter-American Center of Tax Administrations).
Some entities and companies wherein she has worked: Secretariat of Finance of the State of Tocantins (SEFAZ-TO), Secretariat of Finance of the State of RS (SEFAZ-RS), Hay Group, Municipal Prefecture of Porto Alegre; Marcopolo; Sonangol (Oil Company of Angola – Africa); Embraer; Fast Shop; Companhia Siderúrgica Nacional (CSN); Suzano Papel e Celulose; Companhia Siderúrgica de Tubarão (CST); Peugeot; Vale; Cemig; among others.
Latests Posts