Alejandro Juárez Espíndola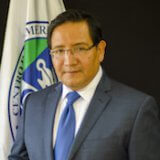 Alejandro Juárez Espíndola
Director of Training and Human Talent
Is Director of Training and Human Talent at CIAT. He holds a Master's
degree in Education and studied Law at the National Autonomous University
of Mexico. He has been in charge of training on international taxation and
technical assistance on human resources for the TAs of CIAT member
countries. He has been involved in multiple assistance missions to Latin
American countries since 1998. He worked for the SAT of Mexico, having
held several management positions in the area of human development
since 1991. He also served at the Government Secretariat of Mexico with
functions relative to the development of subnational governments.
Latests Posts