Tax statistics OECD-CIAT-IDB-ECLAC
In 2010, following the LAC Fiscal initiative of the OECD, CIAT, ECLAC and OECD itself launched a project to jointly develop a report of tax statistics for Latin America, whose first edition was published in 2011. The main advantage of this work has been to allow regional comparisons between the different Latin American countries, and also for the first time, international comparisons between them and the OECD member countries. On occasion of the fourth edition published in 2015, the IDB added to these efforts to standardize and systematize the tax revenue statistics, and the updated edition of 2022 (data 1990-2020) can now be consulted.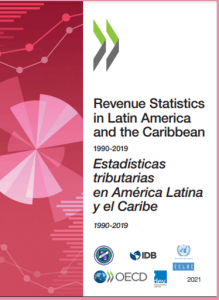 Tax statistics in Latin America and the Caribbean 2022.
Access the comparative and individual data for each country of the publication Tax Statistics in Latin America and the Caribbean.
The new Global Revenue Statistics Database is a major step forward in providing comparable and reliable tax revenue data for a large number of countries from all regions of the world. It provides detailed comparable tax revenue data for 80 countries from 1990 onwards. The data are reported at the general level of government and also at the sub-national and social security fund levels.
Presentation of Revenue Statistics in Latin America and the Caribbean 2022
462 total views, 1 views today