On July 22, 1982, a Technical Cooperation Agreement was signed between CIAT and the Ministry of Economy and Finance of Spain, for the purpose of establishing technical cooperation mechanisms between Spain and each of the CIAT member countries.
Spain has a permanent Mission at CIAT since 1982.
The Spanish Mission serves as liaison between the Spanish institutions and CIAT and coordinates the technical assistance programs as well as the training and research activities. Along said line of action, worth noting is its activity in the sphere of International Forums, Seminars, Courses, Working Groups, Permanent Committees and particularly, the International Public Finance and Tax Administration Master's Program. Also significant is the coordination of the biannual "Research Scholarship" and "Essay Contest" programs sponsored by AEAT, IEF and CIAT, as well as the "CIAT Review".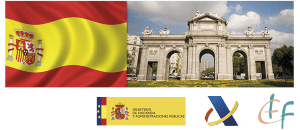 On September 14, 2018, the Memorandum of Technical Cooperation between the Inter-American Center of Tax Administrations (CIAT) and the State Secretary for Finance, the State Agency for Tax Administration (AEAT) and the Institute for Fiscal Studies (IEF), as well as the General Directorate of Cadastre of Spain, was signed for a period of four years.