Official University Master's Degree in Public Finance and Tax Administration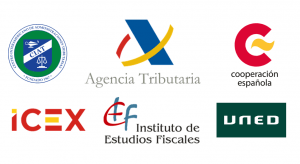 The University Master's degree in Public Finance and Financial and Tax Administration (Tax Administration specialty) is an Official Master's degree offered by Universidad Nacional de Educación a Distancia (UNED) from Spain, jointly with other Spanish institutions such as the Institute of Fiscal Studies (IEF), ICEX Spain Exports and Investments and the Spanish Agency of International Cooperation for Development (AECID).
It also counts on the collaboration of the Stage Agency of Tax Administration (AEAT) of Spain and the Inter-American Center of Tax Administrations (CIAT). Said master's degree is a university postgraduate program specifically aimed at the Latin American sphere and created for the purpose of improving the capacity for designing and implementing tax policies. Thus, the program offers high level academic and professional training in such aspects as the organization, design, planning and management of tax systems, including the trends and best practices in said areas; all of the foregoing with an applied approach and from a comparative perspective.
Specifically, this Master's program endeavors to assist in the training of tax professionals through the following objectives:
- Providing an integral vision of the Tax Administration's entire operation and full knowledge of all the aspects that influence the management of the tax system in an open economy.
- Affording its students a sound training and critical capacity for analyzing alternatives and strategies focused on making decisions based on their working environment.
- Transmitting the necessary techniques and instruments for analyzing and interpreting the factors that influence the correct application of the tax system.
- Affording a comparative vision of the operation of the American and European tax administrations, by highlighting the trends and new developments that show their evolution.
- Training a group of professionals, preferably from the public sector in such areas as public finance, tax administration and public management, to improve their capacity in the design and implementation of fiscal policies.
- Promoting research and study in such areas as tax policy, public finance and tax administration, by maintaining a close and fruitful collaboration among regional and international organizations with similar objectives.
- Collaborating with the institutional strengthening of the Latin American public administrations through the exchange of information and experiences from an eminently practical approach
The Master's program fundamentally endeavors to ensure that the Latin American tax administrations may have available specifically trained managerial and professional staff members at the service of their public organizations, to effectively conceive and apply the tax systems, thereby improving the service rendered to the citizens and collaborating with the social and economic development.
Thirty students, according to the following distribution will be selected for the Master's program:
- Officials working in the tax administrations of the Latin American countries (25 positions).
- Professionals working in the private sphere or university professors from the Latin American countries (5 positions).
The Studies Plan will last two semesters and includes the following obligatory subjects:
- 8 subjects to be conducted online
- Practices
- Graduation thesis
- 2 face-to-face seminars
Events