Manual for the Control of International Tax Planning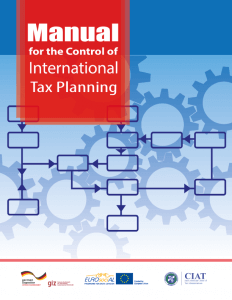 "The CIAT Executive Secretariat presents the update of the Manual for the Control of International Tax Planning. This update has 42 sections, which were prepared in coordination with 48 experts who have extensive experience in tax administrations, ministries of finance, international organizations, academia, civil society and private initiatives.
The content includes an analysis of the various risks of tax evasion and avoidance, based on behaviours of multinational companies as detected by tax administrations from various countries, as well as the possible actions to identify said risks and consequently treat them. This material will be useful for all those interested in learning or strengthening their knowledge on these subjects, with a practice-based approach.
CIAT thanks all of those who generously contributed to make this initiative possible, and in particular, the GIZ (German Cooperation) and the EUROsociAL+ Program."
Manual for the Control of International Tax Planning
General Structure