Course on Double Tax Treaties
The Course on Double Tax Treaties was taught on March 10 to 14, in Panama City, Panama, organized by the UN in collaboration with CIAT.
The course aimed to present the main principles and provisions described in the revised version of the 2011 Model Double Taxation Convention of the UN, highlighting the similarities and differences between this model and the Model Tax Convention on Income and on Capital of the OECD.
The panel of speakers for this course was composed by Brian Arnold and Hugh Ault, Professors in Tax Law and International Taxation respectively, and the regional experts Enrique Bolado Muñoz (SHCP of Mexico), Galo Antonio Maldonado López ( SRI of Ecuador ) and Alvaro Romano (DGI of Uruguay).
The course was attended by officials from the Ministries of Economy and Finance and Tax Administrations from sixteen (16) Latin American and Caribbean countries: Argentina, Bolivia, Costa Rica, Dominican Republic, Ecuador, El Salvador, Guatemala, Honduras, Mexico, Nicaragua, Panama, Paraguay, Peru, Suriname, Trinidad and Tobago and Uruguay .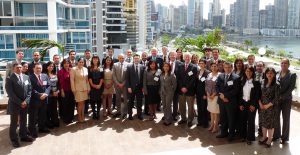 Course Participants
574 total views, 1 views today