Through the coordination of efforts between OECD, IDB, CIAT and IRS from the USA, training was provided to tax administrations officials on transparency and information exchange
From November 14 to 18, 2016, the English edition of the Seminar on Information Exchange was held in Washington D.C. Its main objective was to prepare officials for peer reviews. In particular, the activity focused on issues related to information access on effective final beneficiaries, the process called "fast-track" aimed at encouraging compliance from jurisdictions with the standards of transparency and exchange of information, the rights and safeguards of taxpayers in the exchange of information, the information exchange process upon request, and the procedures to consider for conducting peer reviews. In addition, it dealt with aspects related to the automatic exchange of information in general.
The seminar was attended by tax administrations participants from Albania, Bahamas, Belize, Cameroon, Chile, Costa Rica, Curacao, Spain, United States, Georgia, Ghana, Granada, India, Iceland, Isle of Man, British Virgin Islands, Marshall Islands, Turks and Caicos and Nevis St. Lucia Sweden Islands, Jamaica, Kenya, Kuwait, Liechtenstein, Mexico, Morocco, Netherlands, Panama, St. Kitts, Uganda and representatives of international organizations.
This activity has been the product of close collaboration between the Global Forum on Transparency and Exchange of Information of the OECD, in coordination with the Inter-American Development Bank (IDB), the Inter-American Center of Tax Administrations (CIAT) and the Internal Revenue Service of the United States (IRS).
The Spanish edition of this activity will take place from 7th to 10th of March next year, in in Santiago de Chile, in coordination with the Internal Revenue Service of Chile, OECD, IDB, GIZ and CIAT.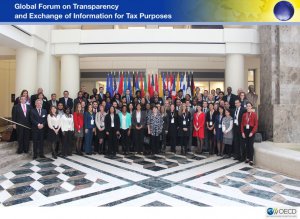 3,346 total views, 2 views today