The 50th General Assembly of CIAT will take place in Mexico on April 25 to 28, 2016
In the framework of the recent CIAT 2015 Technical Conference in Roma, Italy, the meeting of Executive Council was chaired by Martin Ramos, Superintendent of the SUNAT from Peru.
Among the institutional topics, the executive council shared information and agreed on various aspects of the 50th Anniversary since the first CIAT Constitutive Assembly, an event that the Tax Administration Service of Mexico – SAT – is organizing for April 2016.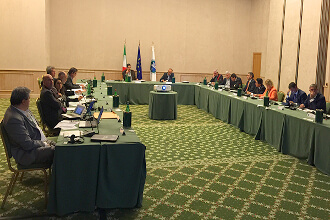 Meeting of Executive Council of the CIAT.