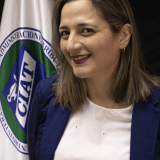 She is a Biomedical Engineer, with a Postgraduate Degree in Senior Management from the Interamerican University of Panama and a Master's Degree in Business Administration, specializing in Human Resources Management from the same University.
Her career began in 2007 at CIAT, where she has worked for more than 15 years in the training area, both virtual and face-to-face, on issues of tax administration, international taxation and tax policy, among others.
Since 2016, she has worked as a consultant and manager of projects aimed at developing human talent in tax administrations and strengthening their training centers.
Currently, she is Training Manager.
Latests Posts