Julio Fernando Lamprea Fernandez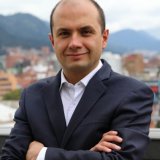 Julio Fernando Lamprea Fernandez
Lawyer and Master in Business Administration from Universidad Externado de Colombia and specialist in commercial law from Universidad Del Rosario.
He has served different positions in the Legal Vice-Presidency of the Chamber of Commerce of Bogota, as well as Legal Manager of a multinational company based in Colombia.
Professor of specializations at Universidad de la Sabana and continuing education at Universidad Javeriana.
In the public sector, he has served as Advisor to the Director of Revenue of the Dian and currently serves as acting Director of Revenue at Dian.
Latests Posts