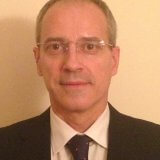 Is Director General of State Agency of Tax Administration. He holds a Law Degree from the University of Zaragoza.
He has been General Director of Taxation in the Ministry of Finance. He was also Director of the Tax Management Department, Deputy Director of the Organization, Planning and Institutional Relations Department, Permanent Technical Secretary of the Joint Tax Management Coordination Committee, Assistant Director General for Tax Verification and Control in the Tax Management Department, and Assistant Director General of Legal Assistance and Normative Coordination also in the Tax Management Department, among other positions, all in the State Agency of Tax Administration.
He is currently Inspector of the Services in the Internal Audit Service of the Tax Administration State Agency.
He has participated in meetings, working groups and international consultancies in Europe and Latin America, and has published numerous articles, courses, and lectures on tax policy, tax law, taxes, tax innovations, tax federalism, tax administration, corporate tax governance, tax control and internal control.
Professor of the Spanish Tax Studies Institute and of the Master in Tax Administration and Public Finance.
Author of the book Diagnosis and proposals for a tax reform. Cívitas 2013
He has recently updated the CIAT Manual of Tax Policy and Techniques Manual.
Latests Posts