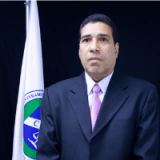 Coordinador de Legislación
Gaspar Eliecer Maldonado is an Economist, with studies in Advanced Economics from Iowa State University and a Masters in International Business and Finance. He is a university professor of Economics and Finance. He has worked in the business field in the area of accounting and logistics and in the public sector has served as deputy chief of budget in a decentralized institution and supervisor of National Accounts at the National Institute of Statistics and Census (INEC) of Panama.
He has participated in programs with the Economic Commission for Latin America and the Caribbean (ECLAC) and the Inter-American Development Bank (IDB).
He currently works as Coordinator at the Inter-American Center of Tax Administrations (CIAT) and belongs to the technical working group on ISORA (International Survey on Revenue Administration).
Latests Posts