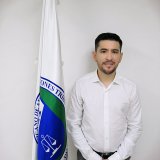 Born in the city of Quito, Republic of Ecuador. He has 11 years of experience in the public and private sectors in activities mainly related to the design, implementation and execution of value chain processes in tax administrations, project management, human resources management, strategic and operational planning, purchasing management and financial management. His roles during his professional career have been Specialist, Consultant, Advisor and Project Manager.
In the academic field, he holds a degree in Business Administration from the Universidad San Francisco de Quito and a Master in Information Technology Administration from the Technological Institute and Superior Studies of Monterrey. He has the following professional certifications granted by the Project Management Institute (PMI): Certified Associate in Project Management (CAPM®), Risk Management Professional (PMI-RMP®), Time Management Professional (PMI-SP®), Certified Practitioner in Agile Approach (PMI-ACP®) and Project Management Professional (PMP)®.
In terms of his publications, he has participated with PMI as a member of the review team for the third edition of the Standard of Practice for Work Breakdown Structure and the Standard for Risk Management in Portfolios, Programs and Projects. He is currently a writer on the blog of the Ecuador Chapter for project management.
Latests Posts