Ceferino Albano Costa González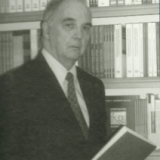 Ceferino Albano Costa González
– Certified Public Accountant: degree awarded by the Faculty of Economic Sciences. – R.O. University of Uruguay.
– Specialization and postgraduate courses in tax technique, legislation and policy in Argentina, Brazil and the USA.
– Consultant for International Organizations. (OAS-IDB, UNDP, AID, CIAT, IMF projects).
– Advisor to the Tax and Legal Department of PWC PARAGUAY.
-Author of books and technical papers published in national and international journals.
– Member of the Tax Legislation and Technique Department of the Faculty of Economic Sciences of Uruguay until 1986. Professor of postgraduate courses in taxation at the Catholic University of Uruguay, guest lecturer in postgraduate courses at the Universities of: Entre Ríos (Argentina) and Externado (Colombia). DGI of Uruguay oficial until 1986.
Latests Posts