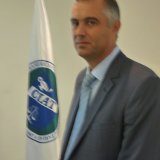 Head of Revision and Resources
I am from Argentina, I've been virtual tutor of CIAT since 2008, participating in the module IV Tax Administration of the diploma in taxation, from January 2009 to date.  I am a CIAT and IMF consultant in tax administration topics, and also a university and postgraduate professor, speaker and blogger on tax topics.
By training, I am a Certified Public Accountant and have a degree in Business Administration; in addition, I have a Master in Public Finances and Tax Administration, with a major in taxation.
I am official of AFIP since 1990, currently I work as a head of Revision and Resources.
I am author of 8 books and more than 180 publications on tax topics.
Experience
Since 2008 I am a CIAT Tutor, at in charge of the Tax Administration Module of the Taxation Course, and of the Diploma in Taxation.
The experience during these 10 years is very enriching, first for allowing me to meet officials from other Tax Administrations and, later, for sharing knowledge with them.
Particularly the part of the course where we see greater interaction are the four debate forums where we try to address current issues on which we share opinions, and the debate help us to learn from each other.
Latests Posts