CIAT participated in the XXI National Tax Convention of the Guatemalan Institute of Public Accountants and Auditors (IGCPA)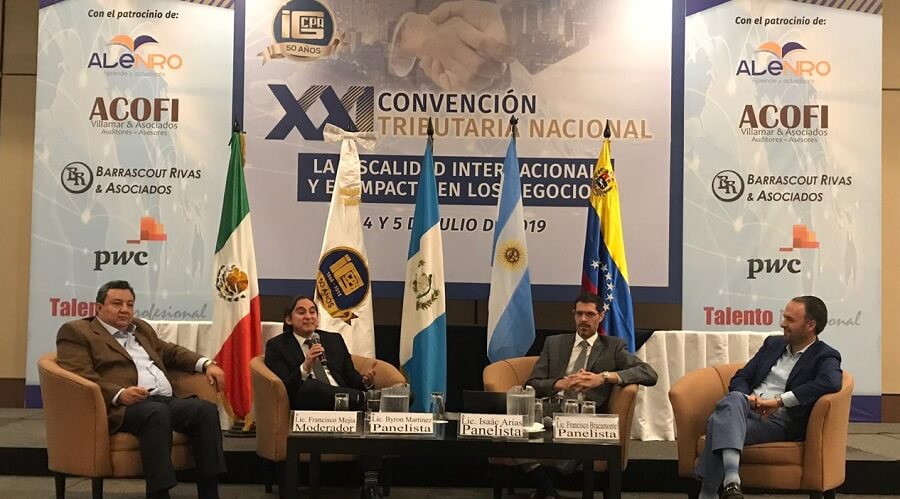 On July 4 and 5, 2019, the XXI National Tax Convention of the IGCPA was held in Guatemala City. Its main theme was "International Taxation and the Impact on Business". The event began with a Conference of the Superintendent of the Tax Administration Superintendence (SAT) of Guatemala. It featured prominent Guatemalan and international professionals who presented and commented on the tax situation in Guatemala, the existing challenges and some issues related to new domestic and regional developments, such as the evolution of the Electronic Invoice, electronic notification, the system for tax credit refund, the implementation process of the Central American Single Declaration, among others.
CIAT participated in the Forum on "Trends in International Audit and their Application in Guatemala", together with representatives of Kreston Mexico, Deloitte and Professional Talent, and in the Conference on "Impact of the adoption of the BEPS inclusive framework for Guatemala", together with a representative of ACOFI Villamar & Associates.
The Convention underscores the need for Guatemala to undertake an integral reform of its tax system and continue to promote the modernization of its tax administration, in order to address the problem of informality, improve transparency and access to information by the tax authority.
It needs to provide more and better services to taxpayers and implement in a consistent manner adapted to the local situation, new international developments aimed at protecting the tax base.
We thank IGCPA for inviting CIAT to its XXI National Tax Convention.
3,834 total views, 2 views today