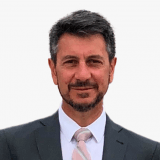 Public Accountant (UBA), Postgraduate Degree in Capital Markets (UBA).
Official of the Federal Administration of Public Revenues (AFIP) since 1990, where he has served as Regional Director (2014-2020) and Head of Research and Taxation (2009-2014). He is currently Technical Advisor at the D.R.Norte.
Technical Coordinator at the Center for Studies in Tax Administration of the FCE, UBA.
Technical Director and co-author of the book "La Fiscalidad de las Criptomonedas y de la Economia Digital" Edicon, 2020.
Professor of the postgraduate course "Taxation in Fintech" at the University of Belgrano.
National and international lecturer and author of numerous tax publications in Ed. Errepar and FCE of UBA.
Latests Posts